More so than any year before, 2013 truly unfolded moment by moment.
2013 was the year of newsjacking – clever marketers were seizing Twitter opportunities left and right, from the Oreo Super Bowl blackout to DiGiorno's Sound of Music moment of livetweeting glory: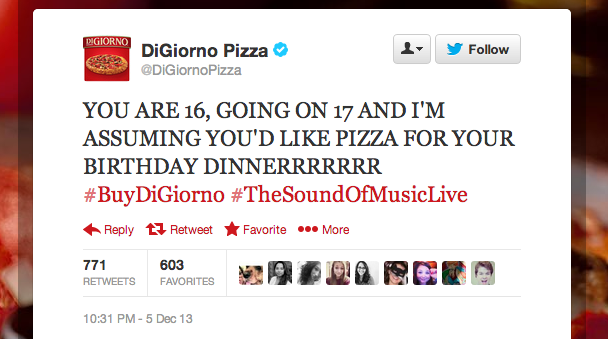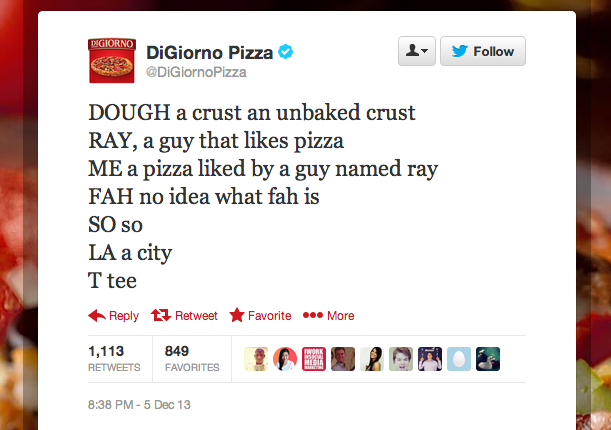 It was also the year of Snapchat, ephemeral pictures and videos that disappear after just a few seconds, Vine's seven-second clips, and Instagram's answer to both apps. Even though taking a picture might make you less likely to remember the event or photograph you're witnessing, people, especially young people, spent most of this year pointing their smartphones in front of them and snapping away. But even beyond the question of medium, storytelling in the past year leaned heavily on the ever-increasing rate of change in our world. One of my favorite examples was IBM's "World's Smallest Movie" spot – in which IBM's scientists manipulated their revolutionary storage technology to animate a story about a boy named Adam and his pet atom using tiny carbon molecules.
The spot works because it connects the idea of people to an impersonal-seeming and oblique technology, while simultaneously illustrating just how incredible and world-changing the research behind the product is. In other words, telling your organization's story is no longer a question of simple intent, copy and placement. The timeliness factor has become the main factor. This year, cultivating an "awareness of now" became the best thing a marketer can do.
Plenty of tools exist to help you focus on the topics and conversations that are most important to your industry, your clients or your donors – and to find the people who are engaging in them. Twitter is, of course, the best tool for keeping tabs on an industry, but the still-kicking Google Alert, RSS feeds, mention and a well-populated list of bloggers are all good places to start.
Someone, somewhere is having the conversation you want to join. Whether by being topical and funny on Twitter or by providing your expertise to a journalist precisely when they need it for their next story, the best way to get your organization's voice into that conversation is to be exactly on time. In 2014, an awareness of now will make sure that when the moment comes, you'll be ready, and – if you're savvy and timely – you'll be able to make it your moment.